John is the Engineering Manager for a leading automotive component manufacturer and was tasked with finding a solution to reduce the cost of machining steering knuckles for a new line of off-road vehicles. The steering knuckles were made of ductile iron with a volume of 30,000+ parts per year.

John's team had been using traditional single point boring methods to hold a tight bore tolerance of Ø47.00mm (+/-.0125) , but they were facing several challenges. The current boring tools were wearing out quickly, resulting in frequent tool changes that were causing significant downtime. In addition, the tools were not able to maintain the required tolerances, leading to a high rate of scrapped parts and rework.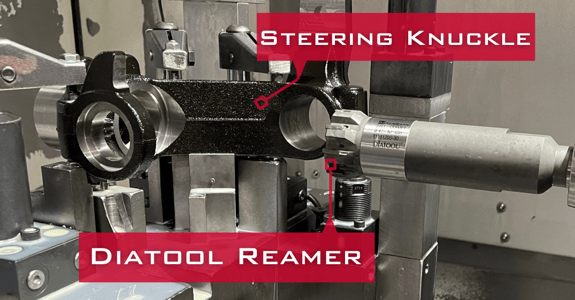 After some research, John came across Monaghan Tooling Group, who had a reputation for providing high-quality tooling solutions that deliver results. He reached out to Monaghan Tooling Group and provided the relevant application data for an Engineer to review.

The Monaghan Team recommended using a Diatool high-performance monoblock reamer, which had a proven track record of reducing machining time and increasing tool life compared to John's current process. The reamer's unique geometry and 8 cermet cutting teeth were designed specifically for his application enabling it to hold the tight tolerance and deliver exceptional machining results.

John decided to give the high-performance reamer a try, and was impressed by the results. The reamer reduced machining time by 54 seconds per part and was able to hold size and surface finish consistently. This led to $36,000 annual cost savings for the company, as they were able to reduce machine downtime and the amount of scrap parts.

In addition, the high-performance reamer saw an increase in tool life of 400% reducing the need for frequent tool changes and further reducing downtime. Previously, these frequent tool changes had become a headache for John's team as it was difficult to set the boring tool to the proper size. The Diatool reamer came set to size ready to go into the machine and produce parts. As a result, John's team was freed up to work on other projects without having to worry about the process.

Overall, John was extremely pleased with the results of working with Monaghan Tooling Group. The high-performance reaming solution from Diatool solved the challenges that his team had been facing, and enabled them to achieve significant cost savings while maintaining high quality and productivity levels.
For more information on Diatool reaming visit: www.MonaghanTooling.com