How a Tooling Supplier Transformed A Frustration Into A Solution
Every Plant Manager and Manufacturing Engineer has experienced it.
You place a tooling order and are told the delivery date. Maybe you got a heads up about a delay. Maybe you didn't. You call to check status with your distributor who finds out that the tooling vendor hopes it will be there in a few more weeks. That sinking feeling in your stomach starts as you realize that the delay will now cause a major disruption in the internal operations at the plant level and scheduling issues will arise as efficiency drops. Your distributor experiences that same sinking feeling. What can be done? Call again. Get more delays or worse, simply no response from the tooling vendor.

Such was the situation for Mike, Sales Engineer at a Tooling Supply Company and the exclusive tooling supplier for a world leader in the design and manufacture of precision drive solutions. Mike needed to replace the tooling on the facility's legacy reamers and the original manufacturer was non-responsive.

Through Mike's network, he had previous success finding solutions by working with Monaghan Tooling Group. When customers find themselves in a pinch, Monaghan Tooling Group (MTG) implements their INNOVATIVE SOLUTIONS PROCESS (ISP), a six-phase progression to uncover unique and effective ways to achieve a better result. Through the Discovery and Collaboration phases of the ISP, a solution was found by utilizing the current float of reaming inventory that they already owned. MTG, who is partnered with Diatool, believed that they would be able to recondition these reamers to the same factory standards as the tool's original manufacturer through MTG's Reamer Reconditioning Service.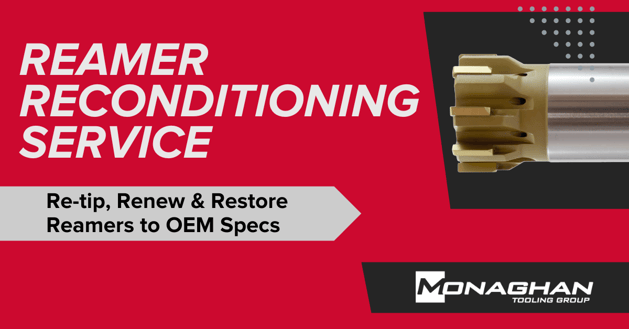 During the Testing Phase of the ISP, very positive results were displayed that confirmed the MTG Restoration Process delivered a hole as good or better than original manufacturing spec. Another plus was that the MTG Reconditioning Process offered the same quality and tool life that the manufacturer was getting from new replacement tooling AND within their time parameter at about 40% less than the cost of new tooling.

Since the first set of tools passed the mark, the Tooling Supply company continued to rely on Monaghan Tooling Group and Diatool to recondition all of their legacy reamers as well as collaborate on new projects.

Distributors are always looking for a quality supplier. Mike said, "I needed somebody (a supplier) that said what they would do and do what they say." After his experience with MTG, Mike confidently stated "Test Monaghan Tooling Group…you won't be disappointed."


More information about MTG at www.MonaghanTooling.com